Are you READY? 2016 here we come !!!!
Dinner in the Sky Las Vegas is the most unique aerial dining experience in the United States. It features a 200-foot-high permanent steel tower outfitted with a pair of lifts capable of raising two 22-seat dinner tables 180 feet up in the air, suspending diners high above the famous Las Vegas skyline.
Guests will be hosted by a professional team of Sky chefs, a Maître d' and a master mixologist, offering gourmet cuisine, fine spirits and Four Star-quality service. Each table offers unparallel views of the famous Las Vegas Strip, the majestic Red Rock Canyon and surrounding areas.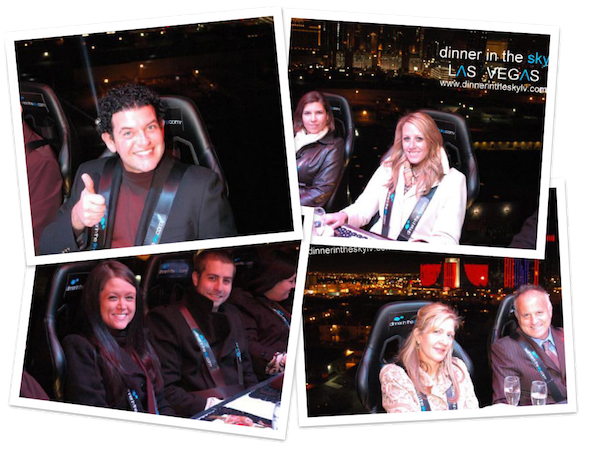 Dinner in the Sky Las Vegas provides limousine service from many of the casino resorts on the Las Vegas Strip and regular shuttle service from the Las Vegas Convention Center. In addition, the 8.8-acre site has the capacity to park more than 400 cars with full complementary valet service offered to each guest.
Additionally, Dinner in the Sky is home to two banquet and special event centers, each more than 9,000 square feet, and offers the staff and expertise to make any event memorable.
Make a Night of it at Dinner in the Sky
The sense of wonder and amazement abounds as the tables ascend 200 feet in the air, and the Dinner in the Sky Las Vegas venue is artistically designed to take full advantage of the experience. When you enter the venue, you are invited into a comfortable, yet lively, nightlife experience – one that fulfills even without the journey into the sky for dinner.
Intimate seating areas allow interaction amongst friends. A full-service, 360-degree bar surrounded by glass provides the perfect sight-line to view the tables rise. Or you can enjoy the adjacent outdoor patio area where live musical performances will be staged below the tables in the air.
Spend your evening with us.
Please Contact us today.