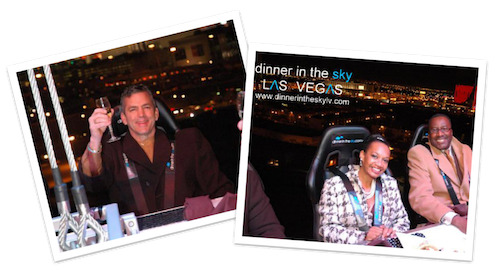 What is Dinner in the Sky?
Dinner in the Sky Las Vegas is a unique aerial dining experience that takes place on a table raised 160 to 180 feet in the air and suspended from a 200-foot permanent tower. Guests will be hosted by a professional team of Sky Chefs, maître d' and master mixologist who will provide gourmet cuisine, fine spirits and Four Star-quality service. There are two tables, each with 22 seats, offering unparalleled views of the fabulous Las Vegas Strip, majestic Red Rock Canyon and surrounding areas.
Is Dinner in the Sky available anywhere else?
In the United States, Dinner in the Sky is only available in Las Vegas. Dinner in the Sky is available in major cities around the world, but Dinner in the Sky Las Vegas is the only one in Las Vegas open to the public. The other locations are just used for promotions.
When will Dinner in the Sky open?
Please check back on www.dinnerintheskylv.com or  Contact us today.
Can I make a reservation now?
Yes. Please use the Contact Us form to submit your request. Please include your name, phone number, date(s) you're interested in, number in your party, and if you're celebrating any special occasion, and our Reservation Specialist will follow up with you.
Do you offer gift certificates?
Yes. Please use the Contact Us form to submit your request.
Can I hold a special event at Dinner in the Sky?
Yes, we can accommodate your special event or meeting.
Please Contact us today:  info@dinnerintheskylv.com  to submit your request.
Can I book an event at Dinner in the Sky even if we don't go up on the table?
Yes. Dinner in the Sky has a beautiful banquet area perfect for any event, whether you want to go up on the tables or not. When you enter our venue, you are invited into a comfortable, yet lively, nightlife experience – one that fulfills even without the journey into the sky for dinner.
Intimate seating areas allow interaction amongst friends. A full-service, 360-degree bar surrounded by glass provides the perfect sightline to view the tables rise. Or you can enjoy the adjacent outdoor patio area where live musical performances can be staged below the tables in the air.
We invite you to make an entire evening of their Dinner in the Sky experience.
What are the hours of operation?
Dinner packages are offered Wednesday through Sunday.
How long does each Dinner in the Sky table experience last?
Each trip lasts approximately one hour.
Where can we park?
We offer both valet and self-parking.
Do you offer transportation?
Yes, several of our packages include limousine service from many Las Vegas Strip casino resorts and shuttle service from the Las Vegas Convention Center.
Are there any height, age or weight restrictions?
You must be four feet tall and at least 10 years old and accompanied by an adult. You must weigh less than 300 pounds.
What if I have to use the restroom? 
It is recommended you use the restroom prior to going up on the table. However if you need to use the restroom during your flight, it takes less than a minute to bring the table down.